What Can Graphic Design Do For My Business?
Professionals in graphic design create visual content that communicates a message. The goal of all designers is to meet the needs of their users and display elements in interactive designs in the most user-friendly manner.
Graphic design gives your customers a visual representation of your business that they can directly associate with the quality of your services. If your marketing materials are poorly designed and unappealing, people will assume that your services are also low-quality. This is why getting your graphic design right the first time is so crucial for success.
When you work with a graphic design company like ADVAN, you receive eye-catching designs that draw customers in, giving them an immediate impression that you have something valuable to offer. You will work directly with a team of talented graphic designers Akron Ohio who have experience in all areas of traditional and digital marketing. This allows us to develop a cohesive look that extends through all your marketing materials including:
Hit the Ground Running with ADVAN Graphic Design Services
Creating the perfect look for your company is a critical part of developing your brand. Choosing an aesthetic should be a fun, creative process, but if you cannot find the right designer, you may experience more challenges than you initially expect.
You should not have to wait around for weeks and months to see progress on your design projects or deal with uncooperative designers who refuse to adapt to your vision. Your company deserves designs that accurately reflect your goals and values as well as the quality of your services. With ADVAN's fast graphic design services, you can start building your brand identity in no time!
Point of Purchase (POP) Displays
While we are proud of our diverse range of skills, this can be a lot to take in for a first time customer. Instead of jumping in head first, let's discuss some of the core parts of effective graphic design.
Logo Designs & Business Cards
Your company logo is the starting point for pretty much everything else that makes up your brand identity. While it may just seem like a small image to put on your marketing materials, it will have a significant impact on your brand as a whole. An appealing logo does not equate to immediate success, but a bad logo can certainly make it more difficult to bring in more customers. This is why logos are important for small businesses looking to make their mark and compete in their industries.
A logo is a powerful symbol that gives potential customers an instant impression of your company. A sleek, metallic design may invoke ideas of efficiency and speed while a vibrant, colorful design may give off a fun, family-friendly vibe. ADVAN Design can help you get your logo just right, so it can be a driving force for your brand recognition that you can proudly display on your other marketing materials.
Business cards are a great marketing tool that will help you get the most mileage out of your logo. Not only will they have your logo in their pocket, but it will also be accompanied by all your contact information. This will give your customers an easy way to spread the word about your products and services while reinforcing your brand identity abroad. Our designers will work with you to find the ideal layout for your business cards, so they make a good first impression and get the results you need.
Sell Sheets & Brochures
An effective set of marketing materials is more than just a logo and business cards with your contact information. You need something that will help your clients understand why they should work with your business. Sell sheets and brochures are both informative and persuasive, guiding people to becoming paying customers.
A sell sheet is a single page of details about a specific product or service. This sheet should provide an in-depth explanation of what the product does and the problem it solves. It essentially acts as a call to action for the customer, showing them a tangible solution to an issue they may be experiencing. Manufacturers often use sell sheets to give clients a quick understanding of their products and how they outperform the competition.
A brochure is similar to a sell sheet, but the information it covers is much broader in scope. You have likely sat near a stack of brochures while waiting in a doctor's office. Brochures are most often used to give new clients a general overview of the company, outlining some benefits of working with you, core products and services, your values and history, or any other relevant information.
Both of these materials require the accurate application of color, images, logos, and targeted language to encourage customers to engage with your business. With an appealing design and intuitive layout, sell sheets can actively increase your customer conversion rates. ADVAN's graphic design team can help you develop the ideal design for all your marketing materials, so you have a better chance of turning the readers into customers.
Streamlined Website Designs
If you want to market your business in the digital age, you will need more than print media to get the job done. You need to build a website. Customers have come to expect every business to have a website because they are just too busy to leave the house in search of the things they need. Without a website, you are losing out on a huge audience of potential customers that are all going to your competitors.
However, you will need more than a domain name to create a successful website. Website design combines aspects of graphic design, programming, analytics, and more, so it is not something that can just be slapped together. If your website performs poorly, your visitors are unlikely to become paying customers. Your website needs to be an extension of your brand that offers a streamlined user experience for every visitor.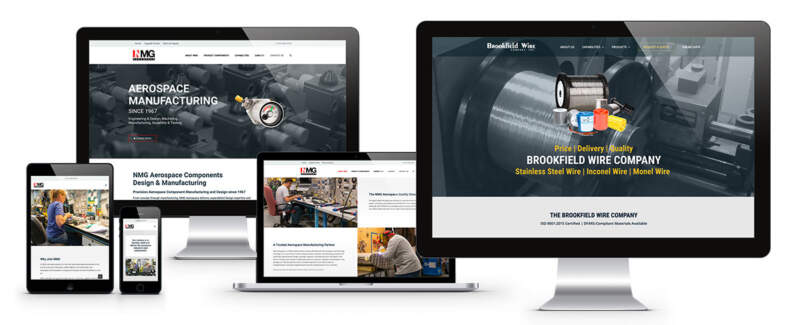 Here at ADVAN Design, we specialize in web development services, having helped countless businesses get their start on the Internet. Industrial manufacturers, local restaurants, interior designers, doctors' offices, and more have all depended on ADVAN to create their websites. We put a focus on visual appeal and performance. While a graphic designer creates stunning visual elements for an interface, a web designer puts these pieces together to create a functional interface. Web designers and graphic designers frequently work together as they have overlapping skills. Due to this relationship, your visitors will experience your brand through attractive graphic design without running into issues like broken links and slow loading times.
Our team of writers will also generate informative content for all areas of your business. This will give each visitor what they need to gain a full understanding of what your business has to offer and make an informed decision to become your customers. With the help of SEO optimization, we can help more and more users see your content, maximize site traffic, and widen your audience.
Get Started with Our Graphic Design Portfolio!
Having trouble deciding where to start with your graphic design project? Take a look at our design portfolio! We maintain an updated portfolio of our past works, so our clients can decide whether our process is right for them. Take your time to browse through our portfolio at the bottom of this page.
If you have any questions about the graphic design process and are unsure of what you are looking for, we are here to help! Our team of creative designers Akron Ohio and marketing specialists can provide any information you need and give you professional recommendations, so contact ADVAN Design today!